Caught in the Crossfire
Her husband doesn't remember her.

When Kate Monroe's deceased husband suddenly appears, the profiler can't believe her eyes. Declan Monroe has lost all of his memories, and Kate is struggling to figure out how to respond after finally overcoming her grief and moving forward. But with a killer targeting Kate, the pair will have to work together to outwit The Hunter in his murderous game… and find their way back to each other.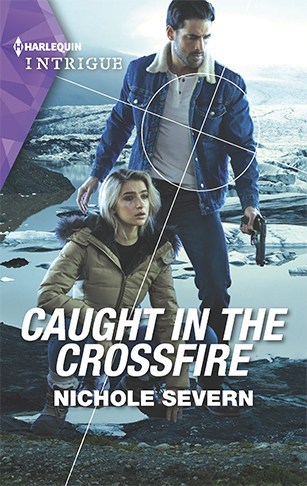 "Nailed it, hit it out of the ballpark! Loved Kate and Declan's story."
- Advanced reader review
Short Excerpt
Your husband is alive, Kate.
  Blackhawk Security profiler Kate Monroe stared at her reflection in the broken picture frame on the floor. Had it really been an entire year? She hadn't set foot in this house since the ambush, too traumatized to pull the bullets out of the walls, too sentimental to put it on the market. Everything had changed that night.
  Tightening her grip on the manila folder in her hand, she couldn't ignore the truth. Declan hadn't died as she'd been told while recovering in the hospital from her own injuries. He'd survived. He'd disappeared. And he'd left her behind.
  Glass crunched under her shoes, bringing her back into the moment, and the photo came into focus. Her and Declan dancing at their wedding, surrounded by smiling guests.
  Burying the burn behind her sternum deeper, she stepped over the frame. Blackhawk's private investigator had found proof—a timestamped photo—of Declan taken a month ago in downtown Anchorage. She'd stared at it for hours, picked it apart pixel by pixel to fight the anger and resentment bubbling up her throat. In vain. The photo was real. Declan was alive, and she deserved to know why he hadn't come home.