Rules in Rescue
She walked away from him once.

Now he's her only hope.

Blackhawk Security weapons expert Anthony Harris has trained for any contingency. Except the return of his ex-fiancée. Glennon Chase walked out on the former Ranger five years ago. And now the CID Special Agent needs Anthony's help with a deadly investigation into her partner's disappearance. Dodging bullets he can handle, but partnering with his ex is flat-out dangerous. Especially when Anthony discovers the secret Glennon's keeping could get them both killed.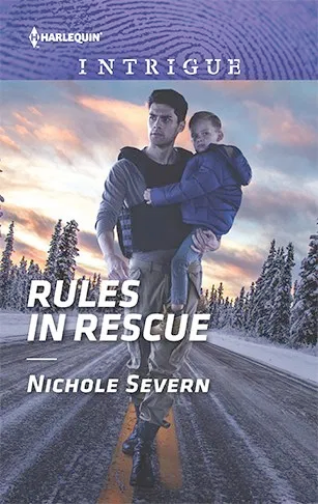 "Action-packed from the first chapter to the last! Smart heroine. Sexy hero. Rules in Rescue has it all."
- Janie Crouch, USA Today bestselling author.
Short Excerpt
"I need your help," she said.
  Four simple words had ripped weapons expert Anthony Harris away from his current surveillance assignment and into downtown Anchorage at three in the morning.
  And there she was. Glennon Chase—his ex-fiancée—needed him after all this time.
  "I haven't heard from you in almost five years and now you need my help?" The weight of the M9 Beretta in his shoulder holster kept him focused on the situation at hand and not on the shadows under those hazel-specked green eyes. He shouldn't have come. Too much history between them. Too easy to get wrapped up in her again. "Don't you have an entire team of soldiers to help you with whatever investigation you're working?"
  The muted beam from her flashlight streaked across the pitted hardwood floors of the abandoned house. She'd given him the address over the phone, insisted he couldn't be followed. Because she wasn't supposed to be there. According to his contact, the Military Police Corps had assigned her to investigate the theft of a weapons shipment out of Joint Base Elmendorf Richardson. So why had Glennon told her superior officer she was on base when, in reality, she was about to be charged with breaking and entering downtown?
  "I'm not here on an official investigation." Her gaze darted out the front window, her fingers visibly tightening around the flashlight. Nervous? That wasn't like her. At least, not the Glennon he knew. Correction: had known. A lot had changed over the last five years. Her dirty-blond hair, now darker than he remembered, had been pulled back in a loose ponytail. Nothing like the polished, professional way she used to wear it. Long, lean muscle peaked out from under her thin T-shirt, a far cry from the soft features he'd loved all those years ago. She'd always been strong, but she'd obviously been pushing herself physically since the last time they'd been in the same room together. And damn, she looked good. "My partner, Bennett Spencer…he's missing. You're the only one who can help me find him."